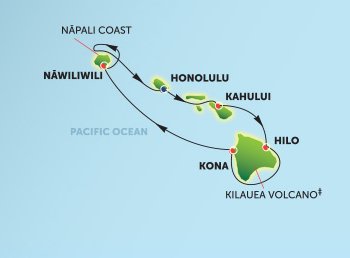 HAWAII HERE I COME!
I have long wanted to cruise around the Hawaiian Islands. This cruise on Norwegian Cruise Line's, The Pride of America, seemed like the perfect answer. I'm actually sailing on the October 31, 2015 round trip from Honolulu and I thought I'd share it with you–maybe you'll want to come along.  Fun is more fun when you share it and say "HAWAII HERE I COME!"
Why?  Well, for one thing, you can see more of Hawaii than you thought possible and get an enormous amount of knowledge about one of the most popular places in the world. How is that possible? It's the only almost All Inclusive Hawaiian cruise to four islands in seven days year-round. You'll be stopping at 5 different ports on 4 different islands. With NCL'S unique 7-day Hawaii cruise itineraries, you get overnights in both Maui and Kauai as well as visits to Oahu and the Big Island of Hawaii. You'll be on island time as you discover cascading waterfalls, active volcanos, black, green and white sand beaches, historic sites and unspoiled nature.
You'll enjoy nearly 100 hours in port on your Hawaiian cruise! That's more than double any other Hawaiian cruise line! That's 7 days of almost all-inclusive pleasure (except for certain shore excursions and drinks other than tea, coffee and juice).
Capture the Aloha spirit at NCL'S luau show which was voted the "Best Luau Show in Hawaii" by Lonely Planet.
No Passport? No Problem! None required.  You'll be in the good ole USA all the time.
Here's a preview of your Hawaiian Vacation in Paradise!
Hawaii with Norwegian Cruise Line

Your Educated Gypsy Travel Planner,
Susan
We love referrals! Please share this with all your family and friends!