2015 WINE CRUISES
How about fabulous FOOD and WINE on a European River Cruise with AMAWATERWAYS? Sail 5 separate rivers on 6 different dates with land option extensions before and after each cruise. Wine, Wine Everywhere! Every day with Lunch and Dinner, at historic wineries & vineyards with acclaimed wine experts, Inspired wine & food pairings, Private wine cellar tours, Select premium wine tastings from celebrated European and North American wineries. These cruises are all about food and wine. IF FOOD AND WINE ARE YOUR THING, THEN THESE ARE YOUR CRUISES!!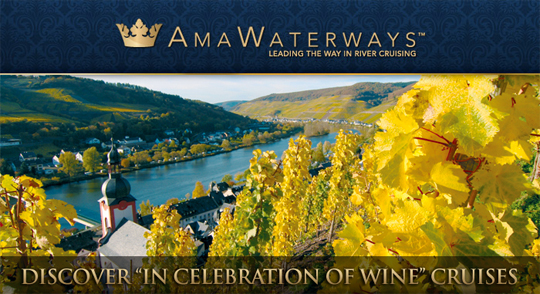 There is nothing quite like an AMAWATERWAYS European Food & Wine Cruise. Discover all of the history and wonder of Europe as you experience fairy tale castles, beautiful cathedrals and visit the famed wineries of the most scenic wine regions.
WINE CRUISE BONUS FEATURES

EXCLUSIVE  EXCURSIONS TO HISTORIC WINERIES & VINEYARDS
EXCITING LECTURES & DISCUSSIONS WITH ACCLAIMED WINE EXPERTS
INSPIRED WINE AND FOOD PAIRINGS
PRIVATE WINE CELLAR TOURS

SELECT PREMIUM WINE TASTINGS FROM CELEBRATED
EUROPEAN & NORTH AMERICAN WINERIES
HERE ARE A FEW EXAMPLES!
PARIS & NORMANDY
Enjoy a 7-night cruise on the Seine River, and then relax for 2 nights in Paris.
Travel Length: 11 Days to Paris
Countries Visited: France
River(s): Seine
THE ROMANTIC DANUBE
Spend 3 nights in Prague, then enjoy fascinating cruise from Vilshofen to Budapest
Travel Length: 12 Days to Prague & return from Budapest
Countries Visited: Austria, Czech Republic, Germany, Hungary
River(s): Danube
THE ENCHANTING RHINE
Start with a 7-night cruise from Amsterdam to Basel, then spend 2 nights in Lucerne, ending with a 2-night stay in Zurich.
Travel Length: 13 Days to Amsterdam and return from Zurich
Countries Visited: France, Germany, Netherlands, Switzerland
River(s): Dutch and Belgian Waterways, Rhine
PROVENCE & SPAIN
Spend 3 nights in Paris, travel by train to Lyon, and embark upon a 7-night cruise, ending with 3 nights in Barcelona (or 2 nights in Marseille).
Travel Length: 15 Days to Paris and return from Barcelona
Countries Visited: France, Spain
River(s): Rhone
ENTICING DOURO
Spend 3 nights in Lisbon, then enjoy a relaxing 7-night cruise through the Douro River Valley.
Travel Length: 12 Days to Lisbon and return from Porto
Countries Visited: Portugal, Spain
River(s): Douro
MELODIES OF THE DANUBE
Enjoy a fascinating cruise from Budapest to Vilshofen and spend 3 nights in Munich.
Travel Length: 12 Days to Budapest and return from Munich
Countries Visited: Austria, Germany, Hungary
River(s): Danube
Your Educated Gypsy Travel Planner,
Susan
We love referrals! Please share this with all your family and friends!