Italy and France are two extremely interesting countries. There is so much history and beauty in them that only visiting them and seeing for yourself can do them justice. Uniworld River Cruises are truly All-Inclusive! One of the nicest things is that you only have to unpack once. You get to relax, have a glass of wine, eat gourmet food and let the ship move you from one lovely town to another. I have been to both countries and I can whole heartedly recommend them.
IF YOU ARE A LOVER OF HISTORY AND ART as well as FOOD AND WINE–
THESE RIVER  CRUISES ARE FOR YOU!  
All-Inclusive Uniworld Boutique River Cruises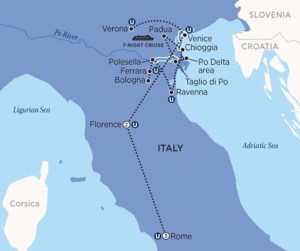 Uniworld Italy and France Departures in 2015!

Contact me to learn more about an amazing European River Cruise in Europe.
Your Educated Gypsy Travel Planner,
Susan
We love referrals!
Please share this with all your family and friends!