CRUISE AROUND THE HAWAIIAN  ISLANDS  
LIFE IS SHORT–GO FOR IT!
With AN INVITATION for an All-Inclusive Cruise To Hawaii OCT 31, 2015!
WHEN OPPORTUNITY KNOCKS– CONSIDER BEING SPONTANEOUS!
Some of the best traveling I've done was at the last minute.  This cruise opportunity is available year round, but  I'll be sailing on this amazing cruise around the Hawaiian Islands  There are still guaranteed balcony cabins available for $1,599 per person–– Come join me!
Only Norwegian lets you visit four islands in seven days, which means you're on an island each and every day!  It is no wonder that they were voted Porthole Magazine's "Best Hawaii Itinerary" for 10 years in a row! And since NCL is the only cruise line that homeports in Hawaii, offering convenient year-round Saturday departures, you can vacation on your schedule.  I'll be sailing around Hawaii Oct 31, 2015. Why don't you come along and join me.

Be spontaneous–Go for it!    
Bon Voyage,  your Educated Gypsy Friend,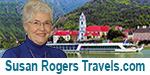 Susan
We love referrals! Please share this with all your family and friends!