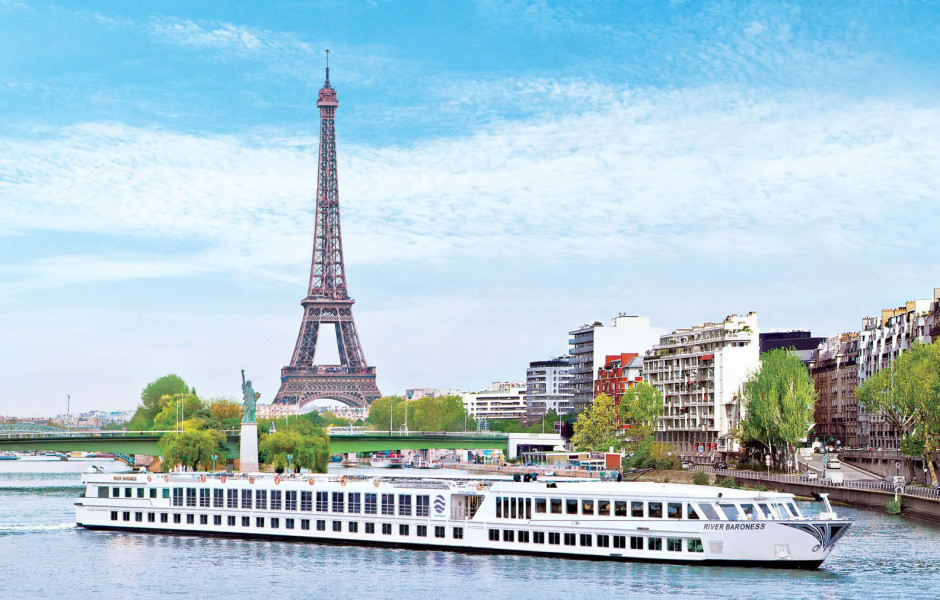 Does smooth sailing and smaller group gatherings with a more intimate feeling appeal to you?
Or, do you prefer the hustle bustle of a huge group and long walks to get all over a ship as well as on and off?
Do you prefer all-inclusive sailings with soft drinks, wine, beer and perhaps other alcohol, including shore excursions? Perhaps you like paying extra for all of that?
In a nutshell, I believe that River Cruising is a most enjoyable way to travel and gives you greater value because of their all-inclusive deals.
Whether sailing on Europe's beautiful rivers—the Danube, Main, Rhine, Moselle, Rhone, Saone, Seine, Garonne, Dordogne, Gironde (last 6 in France), Po (Italy), Douro (Portugal) or Africa on the Chobe River, you will discover the heart of Europe's charming waterside villages and exciting cultural centers or Africa's splendor of big game and magnificent scenery while enjoying the most relaxing way to vacation. What an exciting idea! Come along with me.
MORE DETAIL:  Let's compare River Cruising to Ocean Cruising. On a River Cruise you'll sail ALL-INCLUSIVE with usually 120 to 160 other PASSENGERS to mingle with. There will usually be 60 to 80 STATEROOMS over three DECKS to navigate (and there are ELEVATORS on the ones I recommend). Don't worry about MOTION SICKNESS–the rivers are smooth sailing and a beautiful landscape is a stone-throw away. Everyone fits into the dining room usually in one sitting. You'll enjoy GOURMET MEALS with WINE, BEER, SOFT DRINKS, coffee and tea, INCLUDED at most of them. (I look for this offering as most of my clients ask about this feature).
All CABINS on a River Cruise are outside oriented with one central hallway. Most have LARGE WINDOWS or FRENCH BALCONIES (think sliding glass doors) and some even have step-out balconies. It takes only 5 minutes to walk from front to back of the ship and to get on or off. The top deck is open air with deck chairs and tables and lounge chairs – perfect for photo taking, reading or a glass of wine and soaking it all in. Some areas are covered or enclosed and there may be a small pool or hot tub. I've even noticed a fire pit on some newer ships. Top deck is a good place to take a lap or two if you prefer outdoor exercise to the small gym below.
DAILY EXCURSIONS are included in the many ports on the itinerary. They are led by local guides and most include head sets so you'll always hear your guide. (This is another very important item I watch for. I have been on tours before where the guide is so far up front or another group is too close to us and I couldn't hear my guide). With certain River Cruise suppliers you can choose an early or later tour as well as fast or slower paced tour. An added advantage for some of you active travelers is that with certain suppliers you can ride a bicycle around town or from one town to the next along the river. No chance of getting bored!
IN CONTRAST, most OCEAN CRUISING are not all-inclusive (unless you're following my recommendations for small ship cruising). A large ship can put you among 2,000 to over 5,000 people; in up to 2,700 or more staterooms; on 12 or more decks. There are many activities on board but it can take you 20 minutes or more to get from one area to another. There are multiple sittings for meals and entertainment in order to handle such large numbers of people. (Did I mention the lines?). It can take a day to get from one port to the next and a half hour getting on and off the ship each way. (Board usually by 4 p.m.; again, UNLESS you're on my small ship offers which may sail at 10 p.m. or midnight) If you're prone to motion sickness like I am, you can miss a lot if you hit rough seas.
Bon Yoyage!
Susan Rogers
Small Ship Cruising with Azamara
Dock up close in small ports and stay late in town with Small Ship Cruising on Azamara!