Ready for some Wine Cruise History?
Are you wondering where my new Wine Country Picture is? It's a historic area of the Moselle River in Germany.
I love the story of the places I visit. The ruins of Landshut Castle loom over the old town of Bernkastel. The castle was built in the 9th century and burned in the 1600's. Bernkastel is in a popular wine growing region on the Middle Moselle River. The town is a state-recognized health resort. Fittingly, Amawaterways includes free wine and spirits at lunch and dinner on their Rive Cruises to get you feeling good and in the mood for fun.
Another small town you'll see on a Rhine River Cruise in the Rhine Gorge area is St. Goar. St. Goar of Aquitaine is the patron saint of vine growers and hotel keepers. He was a kind German monk who founded a hospice where he used wine to cure the sick. (You see, we've been right all along about wine!) Over the years, he became known for his prophecies and miracles and many legends gathered about him. After his death, his grave became a pilgrimage site and the nearby area was named Sankt Goar in his honor.
There are mountains which rise on either side of the Rhine and, the most famous landmark is the Loreley Rock opposite the town. Have you heard of the siren, Loreley? This area of the Rhine was tricky for ships to navigate and in ancient times the blame was put on a bad guy, the Siren, Loreley.
One of the charms of The Rhine River is that it's dotted with so many interesting castle ruins. The area is beautiful and so full of German history that UNESCO made the valley a world heritage site In 2002. It is also known for its wines and our wine cruises focus on that with many wine tastings and winery visits. Oh, and did I mention free wine with lunch and dinner? Just saying.
And now you know some of the story of this beautiful place also. Why not join us and see for yourself?
Your Educated Gypsy Travel Planner,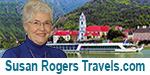 Susan
We love referrals! Please share this with all your family and friends!