Lanai Staterooms on the Holland America Cruise
"There can be a  price DIFFERENCE of as little as $300 to as much as $1,000  between the CATEGORY OF CABINS.  It all depends on the sailing dates and cabin availability." 
Exactly what are they? I see them as a hybrid choice. Not a PRIVATE BALCONY but much more value that an Ocean View cabin(see below) and a little less than a Verandah Suite (see below). Realizing that you get what you pay for,a Lanai stateroom will be Approximately 181–256 sq. ft and will be on the Lower Promenade Deck and Sliding glass doors will lead out onto the walk-around. There can be pricing from as little as $300 to as much as $1,000 difference between the categories. It all depends on the sailing dates and cabin availability.
Susan Rogers Travels specializes in luxury all-inclusive vacations in small to medium sized ships. This includes elegant river cruises in Europe, Africa, Asia or the USA. This also includes ocean going ships of the luxury type. Holland America Line is not considered the highest of luxury, but they are mighty fine ships and I have sailed on them many times myself.
Lanai Staterooms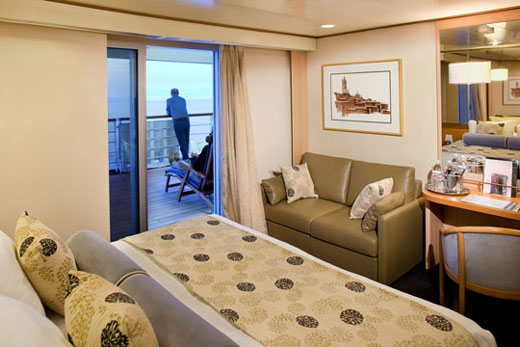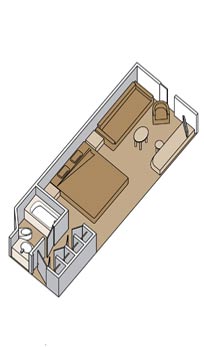 2 lower beds convertible to 1 queen-size bed, bathtub & shower. Sliding glass doors lead onto the walk-around Lower Promenade Deck. Approximately 181–256 sq. ft.
Stateroom amenities include:
Direct access to the Lower Promenade Deck
Luxurious beds featuring Sealy® Premium Euro-Top mattresses and finely woven cotton linens
Deluxe waffle weave and terry cloth bathrobes for use during your voyage
100% Egyptian cotton towels
Premium massage showerheads
5X magnifying make-up mirrors and salon-quality hair dryers
Fragrant soaps, lotions, shampoo and other bath amenities from Elemis Aromapure
Complimentary fresh fruit on request
Elegant ice bucket and serving tray for in-stateroom beverages
Flat-panel TV and DVD player
Ice service, shoeshine service and nightly turndown service
COMPARE THIS TO VERANDAH SUITES: Now called Vista Suites:
Vista Suites: (Verandah Suite) available in many categories.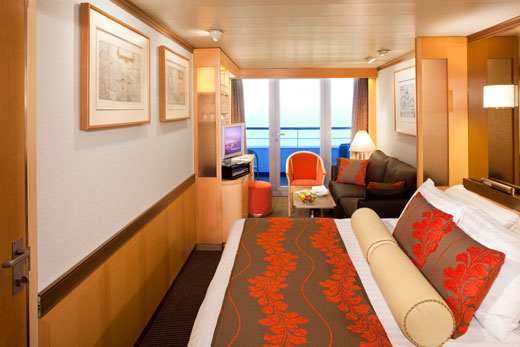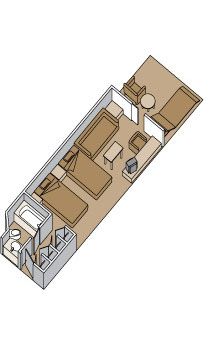 2 lower beds convertible to 1 queen-size bed, whirlpool bath & shower, sitting area, private verandah, mini-bar, refrigerator, floor-to-ceiling windows. Approximately 283 sq. ft. including verandah.
Stateroom amenities include:
A variety of firm, medium and soft pillows
No-host mini-bar for easy entertaining
Personalized cruise stationery
Oversized bath towels
One-touch telephone concierge service
Fresh flowers
Complimentary DVD library
OCEAN VIEW STATEROOMS:
Large or Standard Ocean-view Staterooms
(You have a choice of Full Ocean-view, Partial Sea-view , Porthole view or Obstructed view)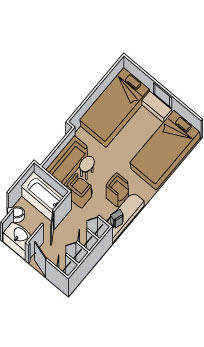 2 lower beds convertible to 1 queen-size bed, bathtub & shower. Approximately 174–255 sq. ft.
Stateroom amenities include:
Luxurious beds featuring Sealy® Premium Euro-Top mattresses and finely woven cotton linens
Deluxe waffle weave and terry cloth bathrobes for use during your voyage
100% Egyptian cotton towels
Premium massage showerheads
5X magnifying make-up mirrors and salon-quality hair dryers
Fragrant soaps, lotions, shampoo and other bath amenities from Elemis Aromapure
Complimentary fresh fruit on request
Elegant ice bucket and serving tray for in-stateroom beverages
Flat-panel TV and DVD player
Ice service, shoeshine service and nightly turndown serviceIf you're stressed out and out of time trying to sort it all out, cruise email us or call Susan at (770) 560-2411! You'll get personal attention and excellent advice from an experienced traveler.

Bon Voyage,

Susan Rogers